Public Engagement, Impact and The Hand Book
As I mentioned recently, I handed on the role of Research Group Leader of the TVAD (Theorising Visual Art and Design) Research Group to Dr Alana Jelinek in summer 2018. I had been in the role for nearly ten years (2009-2018) and I ran the TVAD Research Group blog since 2011, as I have also discussed here. As incoming RGL, Alana has been keen to promote the impactful nature of TVAD's research. She kindly invited me to speak with her about the public engagement activities and potential impact of my current research for The Hand Book project, supported by the British Academy. Our colleague Mikayla Laird filmed the discussion for publication on the TVAD website and the University's Youtube channel.
In the film, I discuss my method in researching The Hand Book as being based on object handling. In this way form and content, or method and topic, are united. Each section of my research is examined through focal object, and in the film, I explain my plans to develop object handling workshops for the museums and archives which hold the focal objects for my research. I have written previously about object handling on this blog and I am currently writing about the topic of touch in museums (about which more later - watch this space!).
I am a keen convert to the common sense notion that public engagement and impact activities must be planned at the outset of a research project, rather than being left to the end as an afterthought. I was introduced to this notion by Dr Sophie Duncan, Deputy Director of the National Co-ordinating Centre for Public Engagement (NCCPE). Dr Duncan began her professional life working on exhibition development and public programming at London's Science Museum before a role as Programme Manager for Science Year, and moving to the BBC to deliver national learning campaigns. Public engagement and impact activities yield insights for all participants including the researchers who are delivering their research to non-academic audiences. These insights need to be fed back into the research, making research, public engagement and impact stages in a virtuous cycle of practice. That is what I hope to achieve with The Hand Book.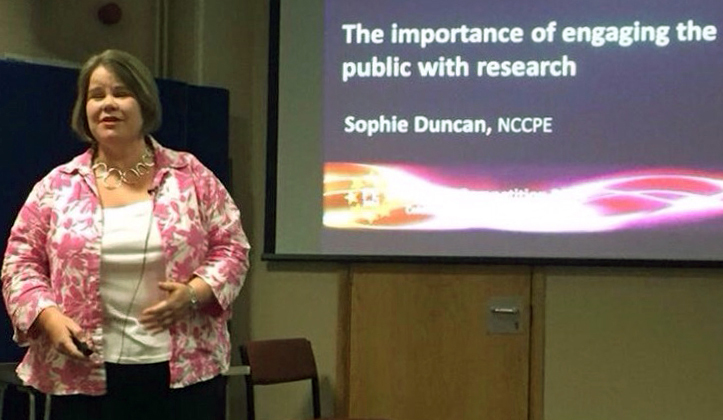 Dr Sophie Duncan, Deputy Director NCCPE
I first encountered Sophie's inspiring approach to public engagement at a conference on that topic at the University of Hertfordshire in June 2015. It is fitting, then, that Sophie is due to return to the University on Monday 14th January to speak at the third biennial University-wide Researcher Development Conference, convened by the Researcher Development Working Group, which I chair as part of the Office of the Vice-Chancellor. We'll be tweeting about the conference at #resdev19