Orla Kiely Reviewed (Briefly)
Today I visited the Orla Kiely exhibition, Orla Kiely: A Life in Pattern, at the East Gallery, Norwich University of the Arts. This exhibition is a smaller version of the one that showed at the Fashion & Textile Museum in London in 2018. I welcome the fact that the Fashion & Textile Museum (FTM) mounted an exhibition of Kiely's work, especially given that her fashion label (but not homewares) is now defunct, and I am glad that it was shown in Norwich even in a reduced format, but I found the exhibition disappointing, at least in its Norwich configuration, for a number of reasons:
1. The opening text panel compared Kiely to C.F. A. Voysey and mentioned William Morris. For this to be convincing, a developed case would need to be made, and it wasn't, it was only asserted in the introductory text on the basis that Voysey spanned the Arts and Crafts Movement and its aftermath while Kiely brought the past of the 1960s and 1970s into the present of the 21st century. Morris was, of course, a polymath who produced an impressive body of literary work, and who was active and influential politically as well as working across a wide range of design fields. The comparison is echoed in the Orla Kiely instagram post from August 27th 2018 where the exhibition is tagged and the catalogue is shown alongside Linda Parry's book William Morris Textiles at the V&A shop.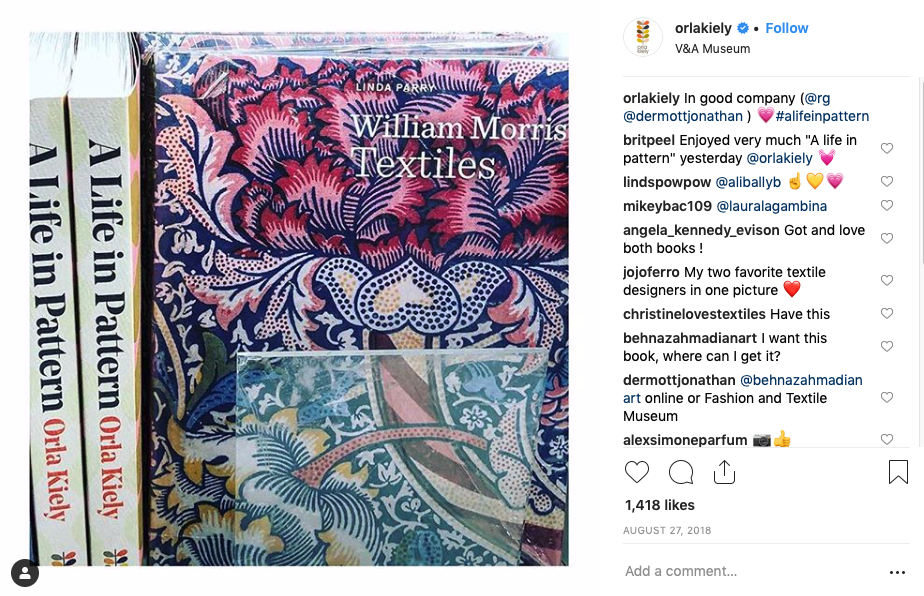 2. No insight was offered into Kiely's design process, or manufacturing. In addition to a wall displaying bags, visitors to this exhibition see only some publicity stills, two mini fashion dolls, two giant dresses, and a showreel of the promotional films she made for each collection, plus a spinning doll display that we were allowed to touch. We were told that Kiely switched from making hats to bags at her father's suggestion and that she was influenced by her childhood in Ireland in the 1960s and 1970s, which she has described as 'intrinsic to my creative DNA'. I wanted to see Kiely's sketches or design drawings, and to learn about where and how her designs are made into products. These were sadly lacking. The still photography and showreel demonstrate, to some extent, the marketing of Kiely's fashion brand, though.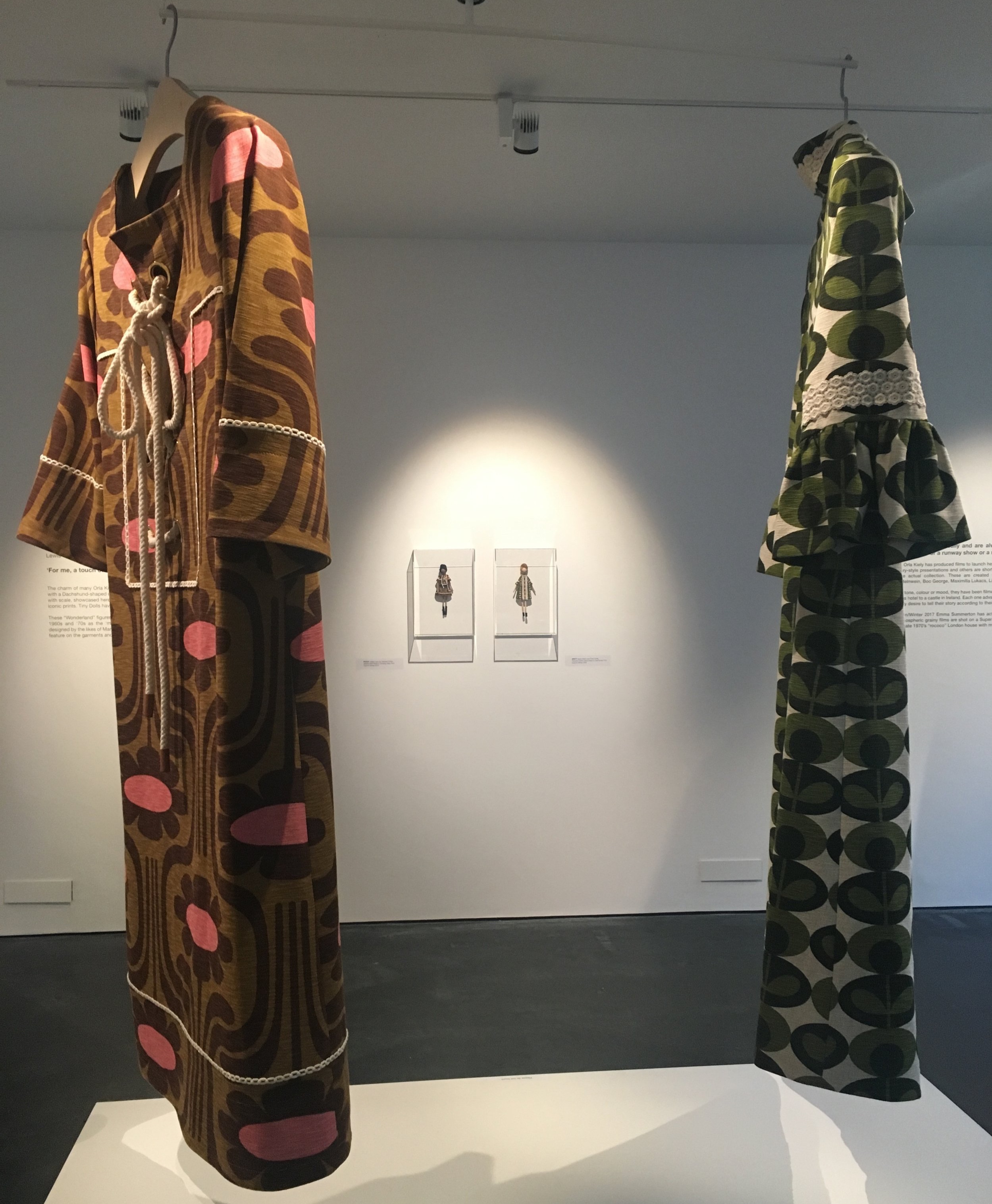 3. The bag wall, which reminded me of a massed display of Missoni dresses at the FTM exhibition Missoni Art Colour (6 May - 4 September 2016), was neither chronological or thematic but seemed to privilege colour as the organisational criterion. This meant that bags which referenced Pierre Cardin, Mary Quant (whose daisy is suggested in several Orla Kiely bags exhibited here) or Barbara Hulanicki's Biba - albeit through Kiely's retro nostalgia prism - were not contextualised as such. For design historians who can read the references from the display wall, this is one thing, but for a visitor without that knowledge, it leaves Kiely's work almost entirely decontextualised. The baseline takeaway from this exhibition was that Kiely designed a lot of different bags in a lot of different colours, but mostly brown, and retro. That does Kiely's work a disservice and I think that the exhibition was was ultimately a missed opportunity to delve deeper into Kiely's creative development and achievements.