A Life More Ordinary? TVAD Talk
With apologies to Dr Jessica Kelly for the title of this post (which I will explain below!), I wanted to share a snapshot of Jessica's TVAD Talk research seminar yesterday for the TVAD Research Group at the University of Hertfordshire.
Dr Kelly returned to Hertfordshire to give a TVAD Talk having worked with us as a Lecturer in Critical and Cultural Studies for the BA Hons Fashion programme. While at Hertfordshire, Jessica kindly worked with me a co-curator of Writing Design: Object, Process, Discourse, Translation, the 2009 Design History Society conference, from which I edited Writing Design: Words and Objects as part of my Writing Design project.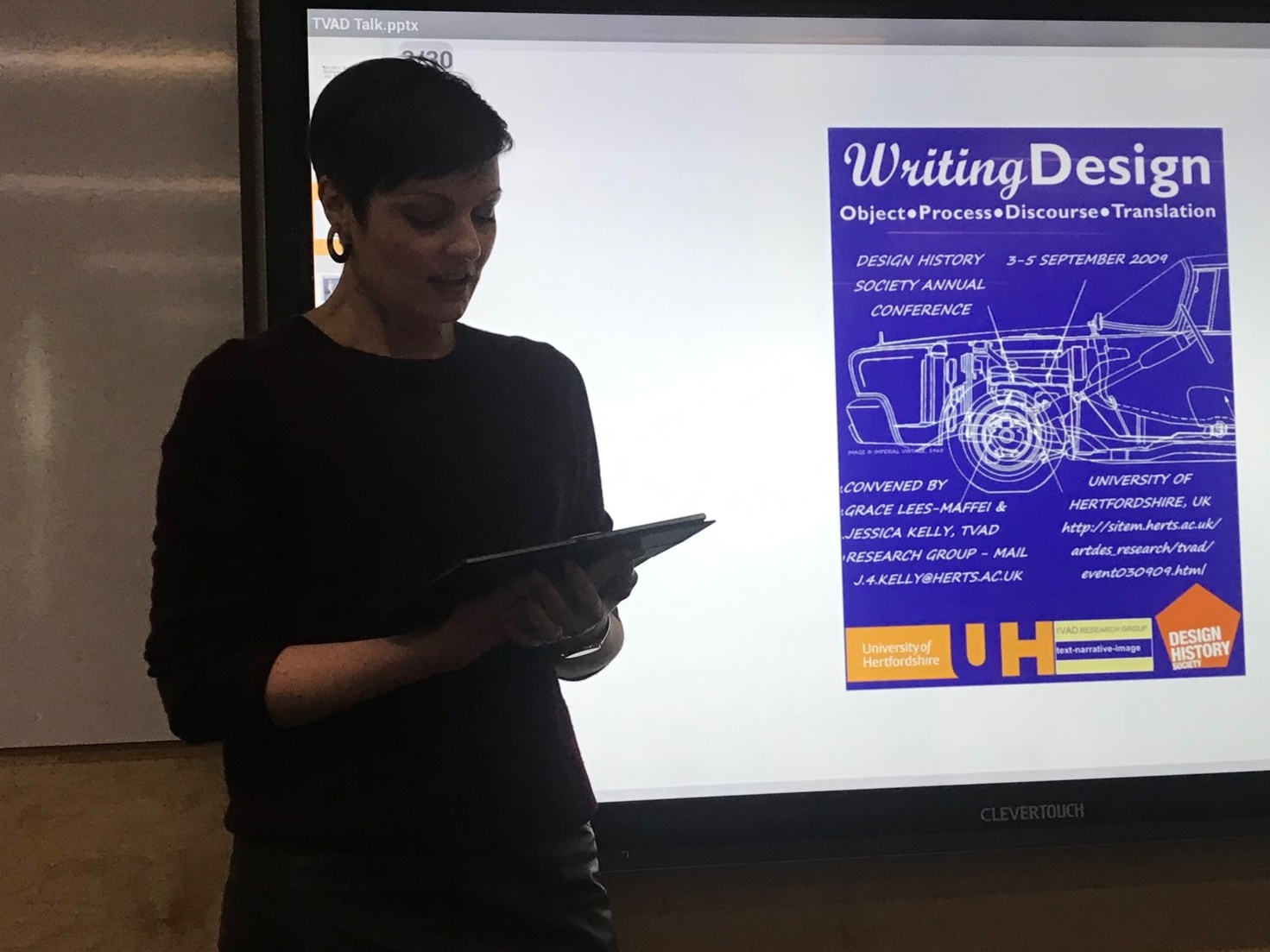 Jessica left Hertfordshire ten years ago in 2009 after the conference, to take up a doctoral research position at our neighbours, Middlesex University, where she worked with supervisor David Heathcote on her PhD '"To Fan the Ardour of the Layman": J. M. Richards, The Architectural Review and Discourses of Modernism in British Architecture, 1933-1972'. You can read the abstract of Jessica's PhD here. In her thesis, Jessica reflected on Richards' importance to the development of modern architecture in Britain, as an exponent of architectural criticism and the mediation of architecture and as a member of an extensive network of people involved in the architecture and media communities.
Since 2013, Jessica has worked at the University for the Creative Arts where she is currently Lecturer in Contextual & Theoretical Studies in the School of Communication Design at UCA Farnham. She is working on a research monograph developed from her PhD and contracted with Manchester University Press' Studies in Design and Material Culture book series, so we can read more when the book is published in 2021.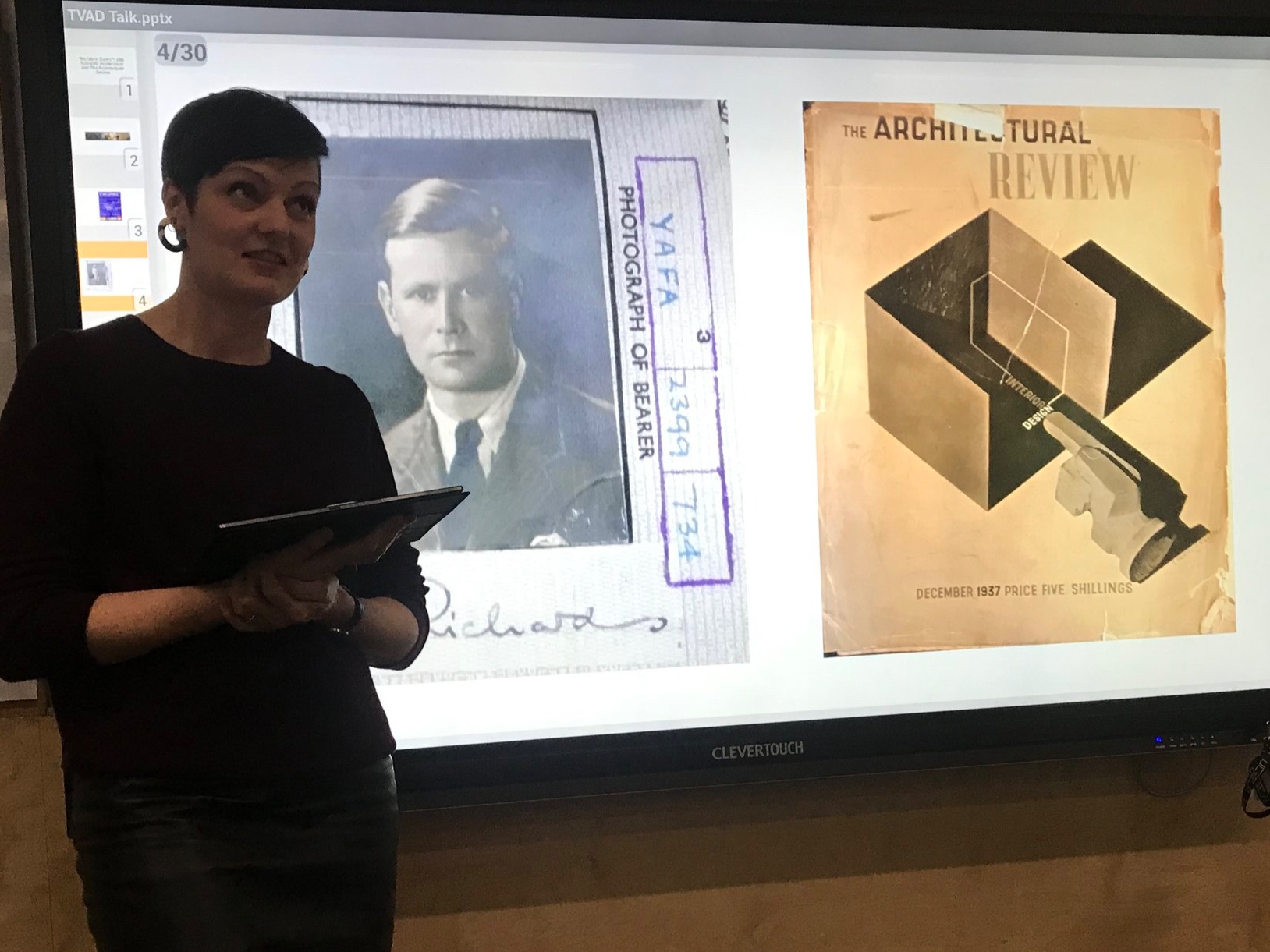 I had previously heard Jessica speak about her research at the 2018 Design History Society annual conference, Design and Displacement, convened by Dr Sarah A. Lichtman at Parsons The New School for Design in New York City last September. For her TVAD Talk Jessica reflected on the development of her research since her time at Hertfordshire, focussed on the mediation of modern architecture in the mid-twentieth century. She outlined her work-in-progress, centred upon her monograph. In Jessica's own words:
'the book traces how architects and critics (in the AR and elsewhere) debated whether "public" opinion was something to be ignored, over ruled, negotiated with, placated or pandered to. The changing form and content of criticism offers a view into how Modern architects understood their work and conceived of their role in society.'
Jessica was clear that J.M. Richards believed that the public, meaning, for him, the middle class public, needed to be educated about architecture and needed guidance from architects and other experts and that the AR assisted in that effort. Richards' views were influenced by the socialism of his wife Peggy Angus. His own influence waned, though, in the early 1970s. In seeking to rehabilitate Richards' reputation Jessica is conscious that his legacy was obscured by less diffident types, colourful characters who dominated the discourse more readily. The title of my post is an attempt to capture this feeling.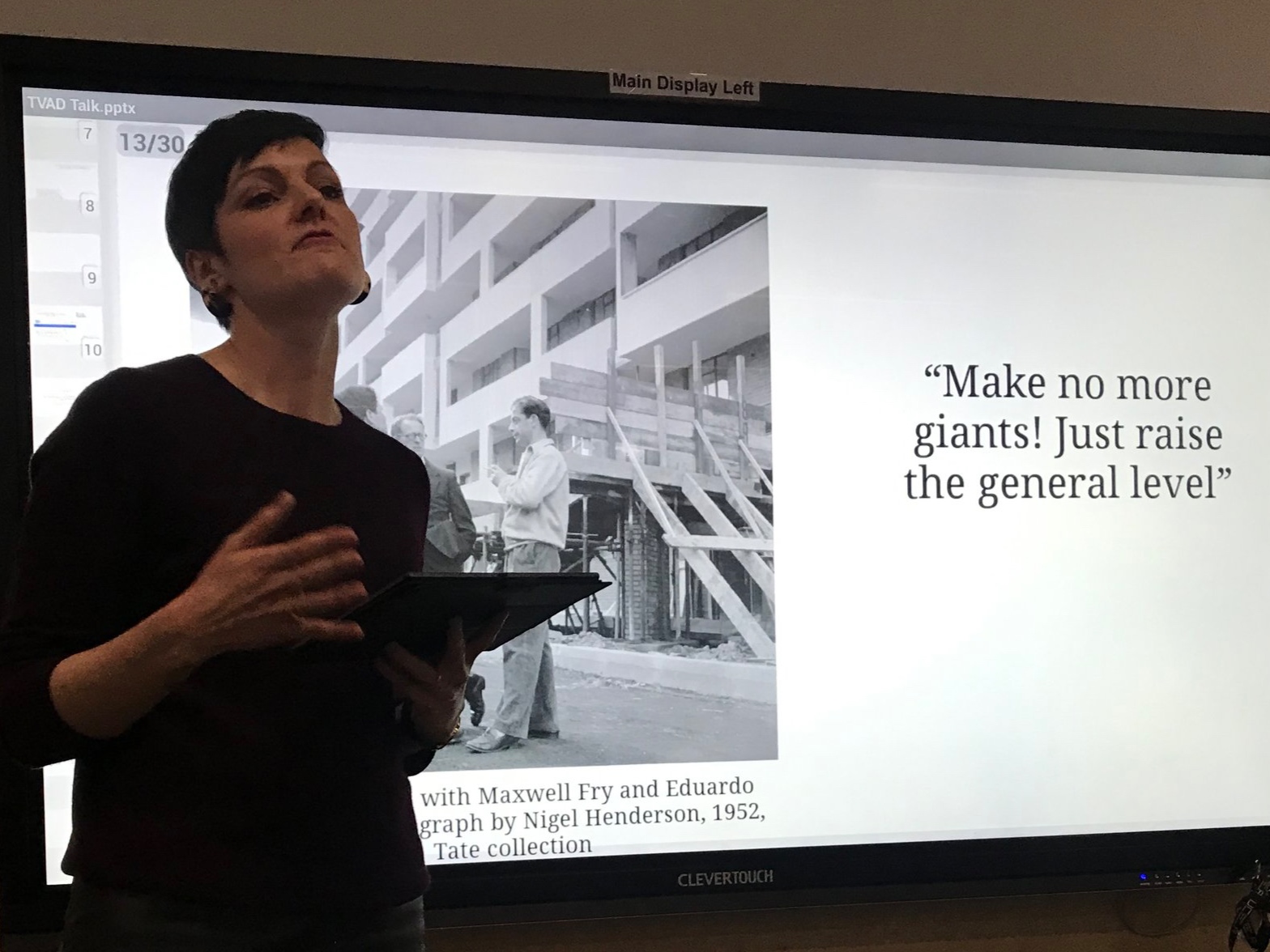 Jessica's TVAD Talk, which took place on Wed 27 March 1-2.30 pm, was filmed by Mikayla J. Laird and will be published on the University's YouTube channel's Creative Arts playlist in due course.