Rob Ryan 'But I Made It With My Hands'
I first encountered Rob Ryan's work many years ago in the pages of fashion magazine Vogue's UK edition. Since then, I have enjoyed watching his body of work grow in volume and extend across more areas of art and design practice. In early 2019, I used some gift money (thank you Joan Maffei and Jerry Maffei) to buy a Rob Ryan Print from the Bircham Gallery in Holt, Norfolk, which caught my eye because it engages with the theme of making by hand so explicitly. The print is sold in several colours on Ryan's Etsy page but the one I bought was the only one the Bircham Gallery had out for viewing in the gallery at that time. It is an intense Yves Klein blue – I would have chosen over the other colours anyway. I didn't know at the time that a modified version of this work had been published on the cover of Ryan's monograph for Rizzoli, I Thought About it in My Head and I Felt it in My Heart but I Made it with My Hands (New York 2018).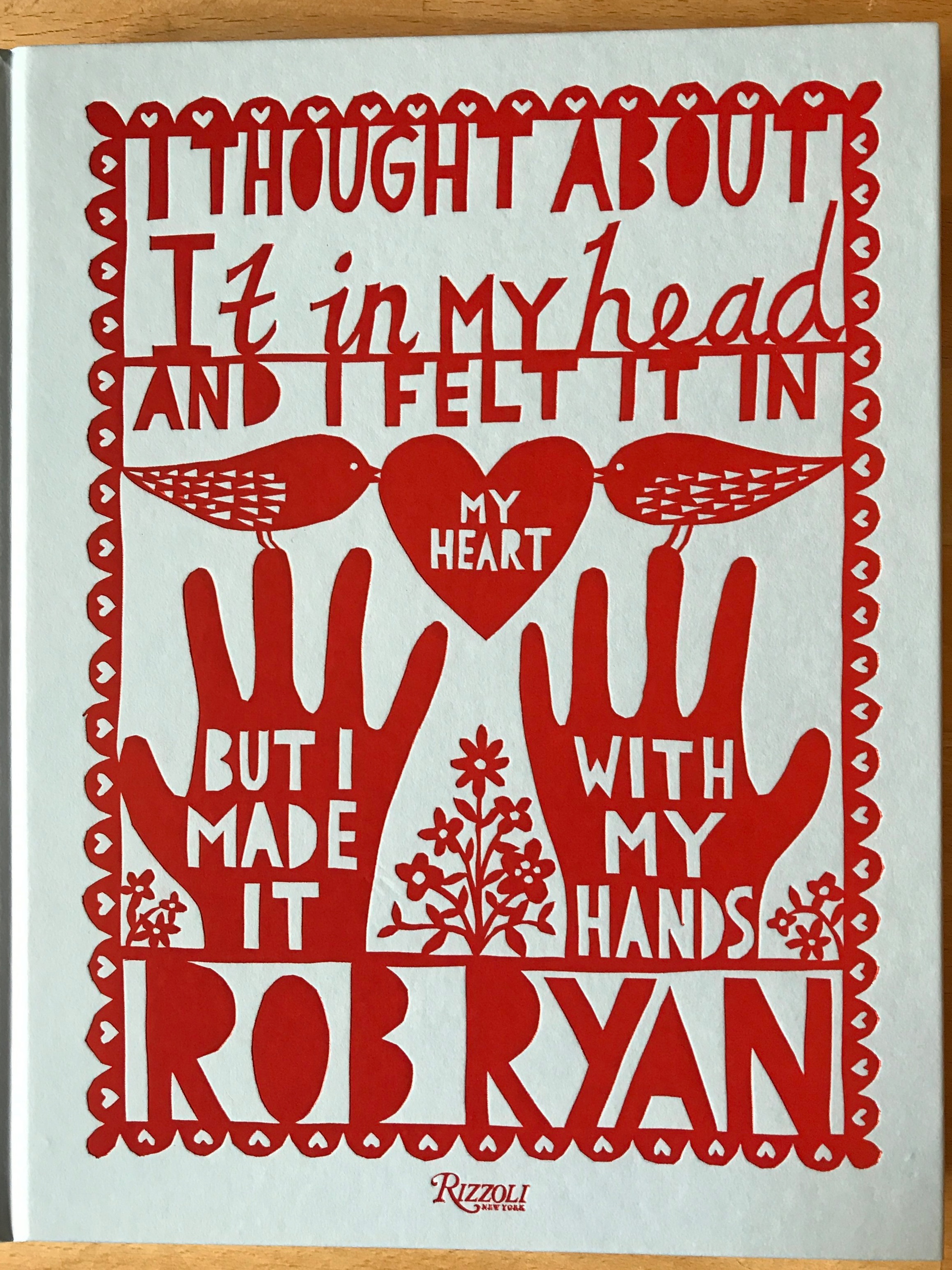 Rob Ryan, I Thought About it in My Head and I Felt it in My Heart but I Made it with My Hands (New York: Rizzoli, 2018).
When I bought the print, the gallery owner took it carefully from the display stand and was in the process of wrapping it in tissue paper, when a friend of a friend appeared at the counter and asked what I had bought. As I started to describe the image she pressed her hand firmly on the tissue paper to push it nearer to the ink on the print so she could better see the print through the tissue paper. Although I didn't say anything to her, I wanted her to stop, and I saw the gallerist bridle subtly, perhaps at this disregard not only for the protection of the print – it's surface is not made to be pressed – but also for his skilled engagement at that moment in wrapping and protecting it. I thought about this instance of transgressive touch for days afterwards, but now I accept it as a candid action which seemed to reject not only of the special nature of the print (which is, after all number 2 in what was a limited edition of 35) but also its ownership. For my friend's friend, the print did not belong to me but rather to anyone who encountered it. That is an admirable stance and I mention it here firstly because my method in researching hands in design has been hands-on, and also because property and ownership issues are addressed in Ryan's work (see below).
My research for the Hand Book project has involved me in handling a great many objects and paper-based designs some of which are supposed to be touched and some, by virtue of their fragility, importance, or location, are not so my engagement with them has been more limited. Theoretically, my Rob Ryan print is something I can handle whenever I want, in any way I wish. I could even cut it up, if I wanted to. Of course, I wouldn't and instead I spent nearly the price of the print again in having it matted and framed under (museum) glass by the ebullient Lee at Norwich Frame Workshop so that it will not be touched again.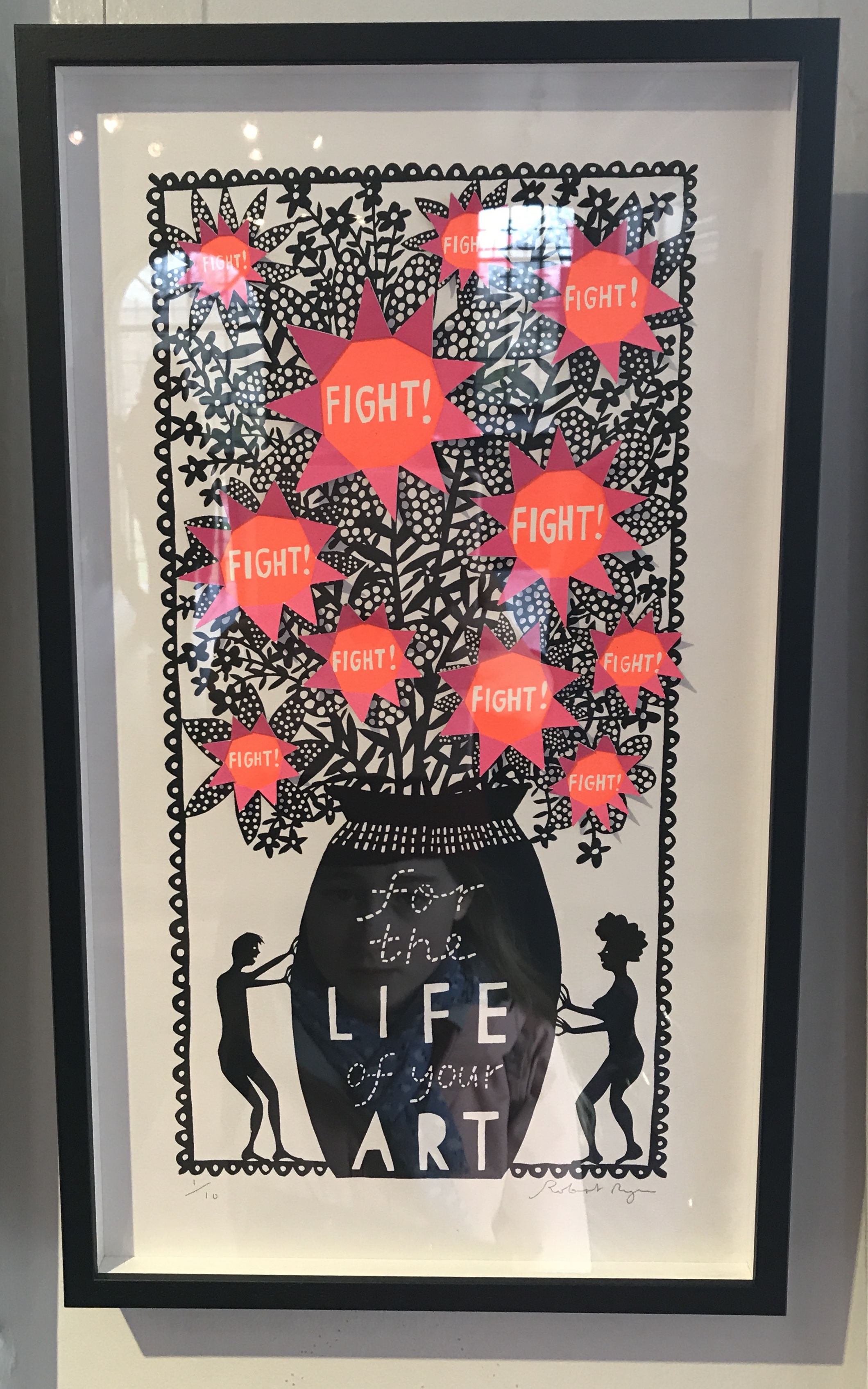 Rob Ryan, 'Fight For the Life of Your Art' Screenprint with hand cut details, 2018.
Shortly after buying my print, while it was at the framers, I visited a solo exhibition 'Rob Ryan', at the William Morris Gallery, Walthamstow, East London (20 October 2018 to 27 January 2019). There I had the chance to see more of Ryan's work up close (but without touching). Some of the prints, such as 'Fight For the Life of Your Art' (2018) had been cut open to create tactile, textural relief sections, melding Ryan's techniques of paper cutting and screen printing. I couldn't touch any of it, as all the pieces were under glass, with one exception. A large paper cut custom made to fit a space on the stairwell is apparently under True-Grain Film according to a blog post describing the process by Studio Assistant Daisy Shayler (22nd October 2018). Ryan was commissioned by the William Morris Gallery to create work in response to their collection, which is mainly composed of work made or designed by Morris himself. Ryan picked up on Morris's political legacy and created a series of works championing creativity and access to fairly priced housing, linked issues of relevance in East London and across the capital as well as more broadly.
Rob Ryan, 'Let People Live! Cap Rents in London' (2018) in situ at the William Morris Gallery, Walthamstow
Later on, I also bought a Rob Ryan mug, which is cheering not only in its message but also for its affordance as a hand-warmer when filled with hot tea. This small object embodies Morris's goals for the role of design as a way of improving people's lives and his maxim 'Have nothing in your houses that you do not know to be useful or believe to be beautiful' ('The Beauty of Life', 1880 lecture for the Birmingham Society of Arts and School of Design, in Gillian Naylor, ed., William Morris by Himself: Designs and Writings, London: Macdonald, 1988).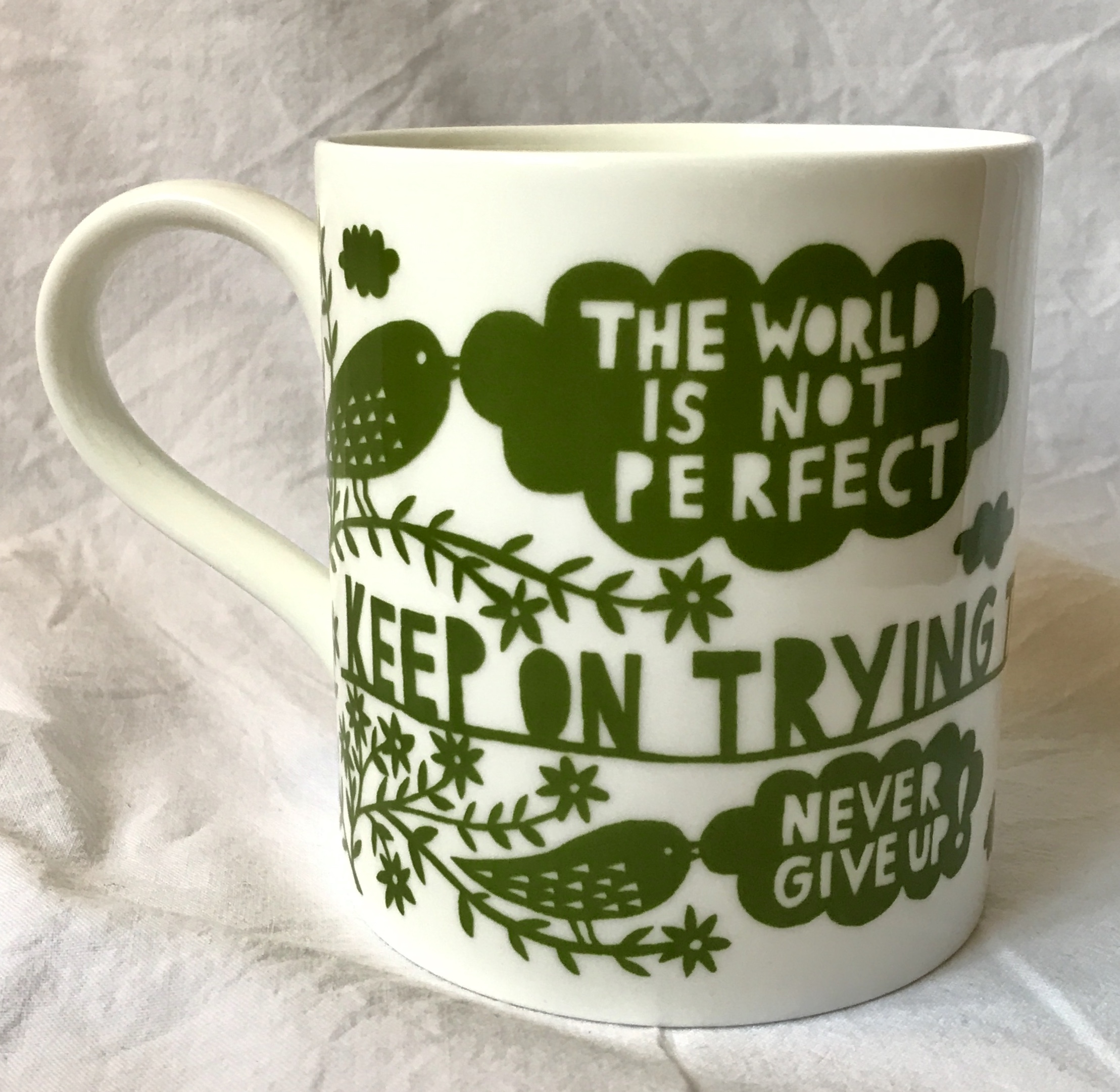 Rob Ryan mug, 'The World is Not Perfect' (2018)
Recently, I have been writing about Ryan's work as part of my Hand Book project. I am interested in the role of hand making in Ryan's work in paper cutting and silkscreen printing, the relationship between design, craft and art across his oeuvre, and the connection Ryan makes between the formal need for paper cut motifs to be continuous so that they hang together, and the overarching theme in Ryan's work of a strong need for personal connections, romantic, familial, friendly, political.
Rob Ryan print reading 'Let's Be a Part of Each Other - No to Brexit!' (2019), posted on Ryan's Instagram Feed @robryantown 9th April 2019.