A ring that stole my heart and changed my mind
On Wednesday, I visited the V&A again as part of the primary research for my Hand Book project. Because my project engages with a very broad topic, I am researching it via a select group of focal objects, a handful of which are held by the V&A, including the HMP Wandsworth Quilt made with the assistance of Fine Cell Work; Cody Wilson and Defence Distributed's 'Liberator' 3-D Printed handgun and, this week's object, the V&A's claddagh ring made by Andrew Robinson in Galway, Ireland between 1750 and 1800.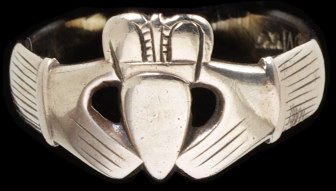 Gold claddagh ring inscribed inside 'JMM.A', with two hands clasping a crowned heart, mark of Andrew Robinson. 1750-1800, Galway, Ireland. Victoria 7 Albert Museum, London.
Careful followers of my work may recognise this ring from my keynote talk 'Hand in Hand: Design History and Victorian Studies' for the British Association of Victorian Studies conference 'Victorian Patterns' at the University of Exeter in August 2018.
Rachel Church, Curator in the Department of Sculpture, Metalwork, Ceramics and Glass was so generous with her time and expertise. She met me in the newly refurbished jewellery gallery, a place I avoided when I was a student at the V&A and Royal College of Art doing an MA in the History of Design, and which I continued to avoid as a member of the Education Department staff, because at that time it had a very forbidding, narrow, full height turnstile which threatened confinement. Now the gallery has no such turnstile and the beautiful new lighting sets the gems glittering even more than they did before. We looked at the hand-in-hand rings, with me struggling to see the details that Rachel pointed out, wondering about the quality of my eyesight and my aptitude for studying the miniature objects of jewellery. Rachel pointed out the gap where the ring that I was here to see would have been displayed if it hadn't been taken away for my viewing. We then went up to Rachel's departmental offices and I was able to view the Andrew Robinson claddagh ring up close, and to handle it, with gloves, but I was not allowed to put it on my finger as wearing the V&A's jewellery is sadly not allowed. I was also able to view and handle an entire extra tray of 'LOVE RINGS' including a wide variety of hand-in-hand or fede rings.
It was during the incredibly privileged process of looking at and handling the V&A's collection of love rings and talking with Rachel about them that she drew my attention to the gimmel rings in the collection. Our discussion centred upon M.281-1962 (above) but there are several other examples in the V&A collection, and in Rachel's book Rings, part of the V&A's 'Accessories' series (London: V&A and Thames & Hudson, 2011 and revised and expanded 2017). These include M.224-1975, which like M.281-1962 was also donated by Dame Joan Evans, and was made in Germany between 1600 and 1650. This ring, however, features a diamond and the inscriptions in German 'My beginning and my end' and 'What God has joined together, let no man put asunder', which phrases are used, Rachel points out, in marriage services.
During our conversation, which ranged across the history of hand-in-hand rings and the terminology used to describe them, and issues of scale, gesture, naturalism and symbolism, gender and identity, I became more and more convinced that the gimmel rings were more compelling examples of hand-in-hand rings than the Claddagh rings because gimmel rings are kinetic, they open and close clasping the corresponding hand. These rings perform hand-holding therefore, rather than merely depicting or symbolising this gesture.
My day at the V&A was characterised by a change of mind that could not have occurred in any other way than via primary research, and object-handling. The gimmel rings on display in museum cases are as static as their sisters, the Claddagh rings. It is only through primary research in the form of direct object handling that the extra dimension of movement afforded by the gimmel ring becomes apparent.
Thanks to Rachel Church, and to the V&A, for looking after these extraordinary objects and making them available to researchers such as myself. The V&A's jewellery collection is the nation's treasure trove.