Prof Regina L. Blaszczyk, Advisory Board Member
In December, I wrote here about the scientific advisor to my Hand Book project, Professor Christina Jerosch-Herold. This post continues an occasional series profiling the four members of the advisory board, to span the two years of the British Academy funded project.
Yesterday, I met for an extended working lunch at the British Library with advisory board member, Professor Regina Lee Blaszczyk. She is renowned for the quality of her research and writing in business history and associated fields, including design history. As Professor of Business History & Leadership Chair in the History of Business and Society at the University of Leeds her expertise ranges across 'Global, British, and American business history with a cultural twist; consumer society in the US and UK; history of design, innovation, fashion, colour, marketing, and retailing; the chemical industry' according to her institutional profile. The breadth of her interests, however, should not be taken to imply a lack of depth. Reggie's work is extraordinarily thoroughly researched, especially in archival resources, and her extensive bibliography of resulting books and articles is innovative, rich and substantially-well referenced as a result.
Reggie took her PhD (1995) from the Hagley Program in the History of Capitalism, Technology, and Culture at the University of Delaware. She then worked as a curator at the Smithsonian National Museum of American History, Washington, D.C. before taking up a post in American Studies at Boston University. She next moved to the Directorship of Philadelphia's Beckman Center for the History of Chemistry at the Chemical Heritage Foundation (known since February 2018 as the Science History Institute) and she was also a visiting professor at the University of Pennsylvania.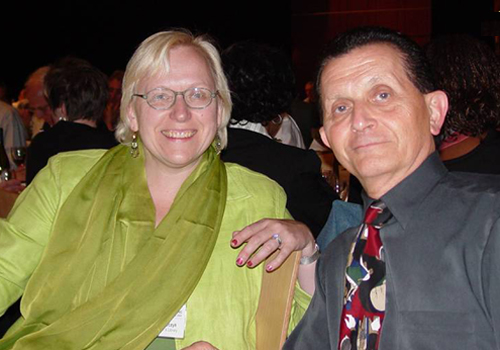 Reggie Blaszczyk and Mark Rose at the 50th Business History Conference, Le Creusot, France, June 2004. Photograph: BHC.
I first met Reggie in 1999 in London, while working as a lecturer and completing a part-time PhD. Reggie was visiting from the US that year. In 2004, Reggie was a member of the Programme Committee for the 50th Annual Meeting of the Business History Conference, "Networks", held in Conjunction with the Académie François Bourdon, Le Creusot, France. She kindly invited me to chair a panel there, 'Fashion and Design in Twentieth-Century Europe' with presentations by Florence Brachet Champsaur (École des Hautes Études en Sciences Sociales, France) on "French Fashion during the First World War", Elisabetta Merlo and Francesca Polese (Università Bocconi, Italy) on "The Emergence of Milan as the Capital of the Italian Fashion Industry" and Per H. Hansen (Copenhagen Business School, Denmark) on "The Rise of Danish Design". The commentator was Christopher Breward, who was at that time based at the Victoria and Albert Museum. The BHC presentations were an early taste of what was to come in Reggie's research into the history of the fashion business (see below).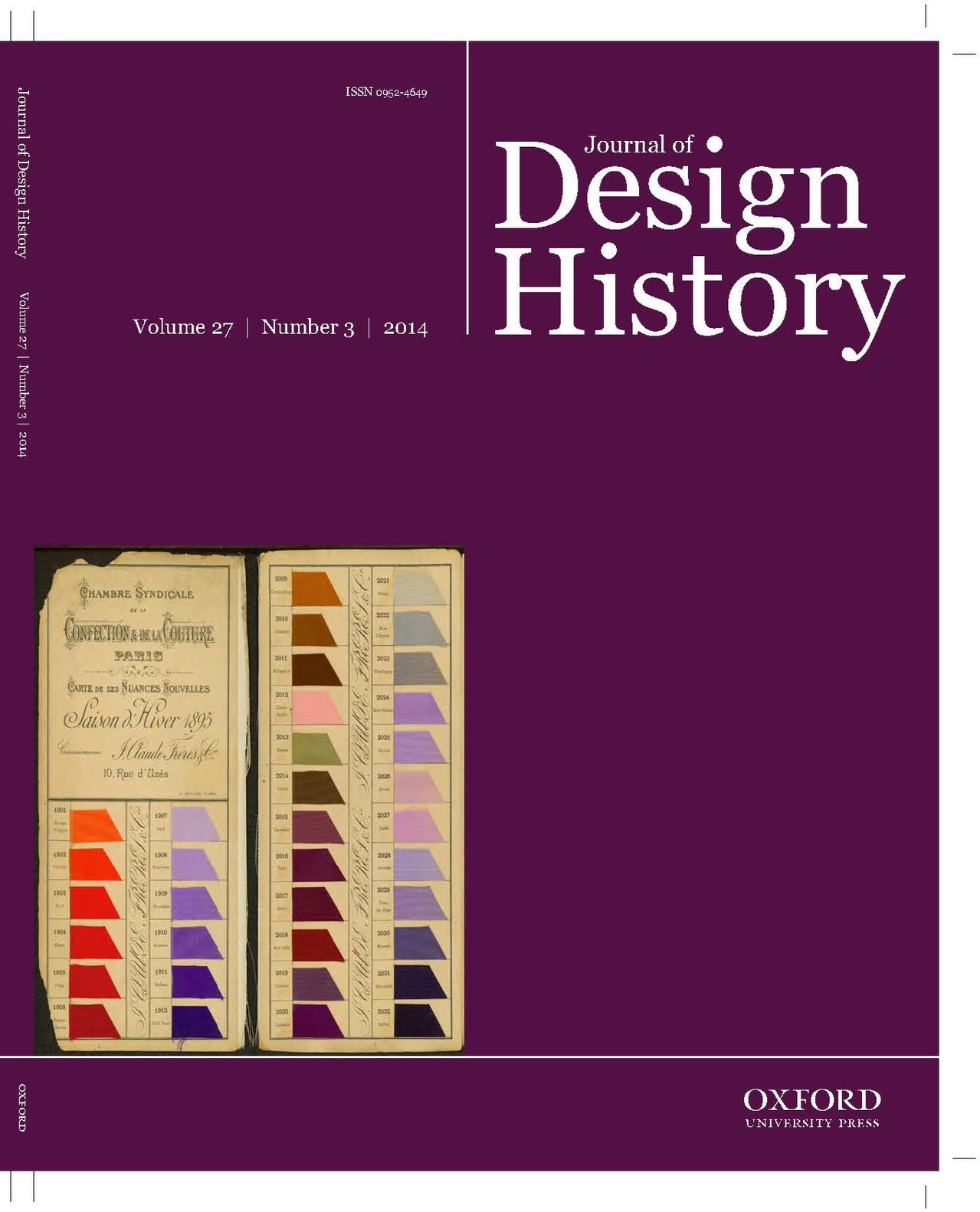 Proof cover for 'Colour and Design', a special issue of the Journal of Design History, edited by Regina L. Blaszczyk (vol. 27, no. 3, 2014).
Reggie and I next worked together as members of the Editorial Board of the Journal of Design History, which she joined in November 2009 (I had been Editor and Book Reviews Editor, 2002-8, and returned as Managing Editor, 2011-17). Reggie's contribution was so valuable that her tenure was extended and I remember wondering how we would manage without her when she left the board to focus on her work at the University of Leeds, which she had joined in February 2013. In addition to her editorial role, and leadership of the Journal's Archives, Collections and Curating section, Reggie has contributed important research to the Journal, and to several JDH special issues. She has an article, 'Designing Synthetics, Promoting Brands: Dorothy Liebes, DuPont Fibres and Post-war American Interiors' in a special issue which I co-edited with Professor Anne Massey, 'Professionalizing Interior Design 1870–1970' (vol. 21, no. 1, 2008). She edited a special issue, Colour and Design (vol. 27, no. 3, 2014), and a later special issue, 'Interrogating Intellectual Property Rights in Fashion and Design' (vol. 30, no. 4, 2017), co-edited by Veronique Pouillard and Tereza Kuldova, was part of Reggie's major HERA-funded project on the fashion business.
The Enterprise of Culture (2013-16) saw Reggie leading an international team of researchers in an extended exploration of fashion. Blaszczyk introduces the project on its website as follows:
Fashion is often studied from a purely theoretical perspective, from a costume history or dress history viewpoint, or from a popular media-driven vantage point. 'The Enterprise of Culture: international structures and connections in the fashion industry since 1945' breaks new ground, using the fashion business to examine how various types of cultural encounters – between 'core' fashion cities such as Paris and London and 'peripheral' areas such as Sweden and Scotland, between style labs and the high street, and between fibre makers, clothing manufacturers, and retailers – stimulated innovation, and created a new and competitive industry.
According to the project's website, The Enterprise of Culture has resulted in four single-authored books, four anthologies, 21 journal articles, 38 book chapters, three special issues for two major journals, and a pilot Oral History Programme. It has been extraordinarily productive, as we might expect from a project led by Professor Blaszczyk.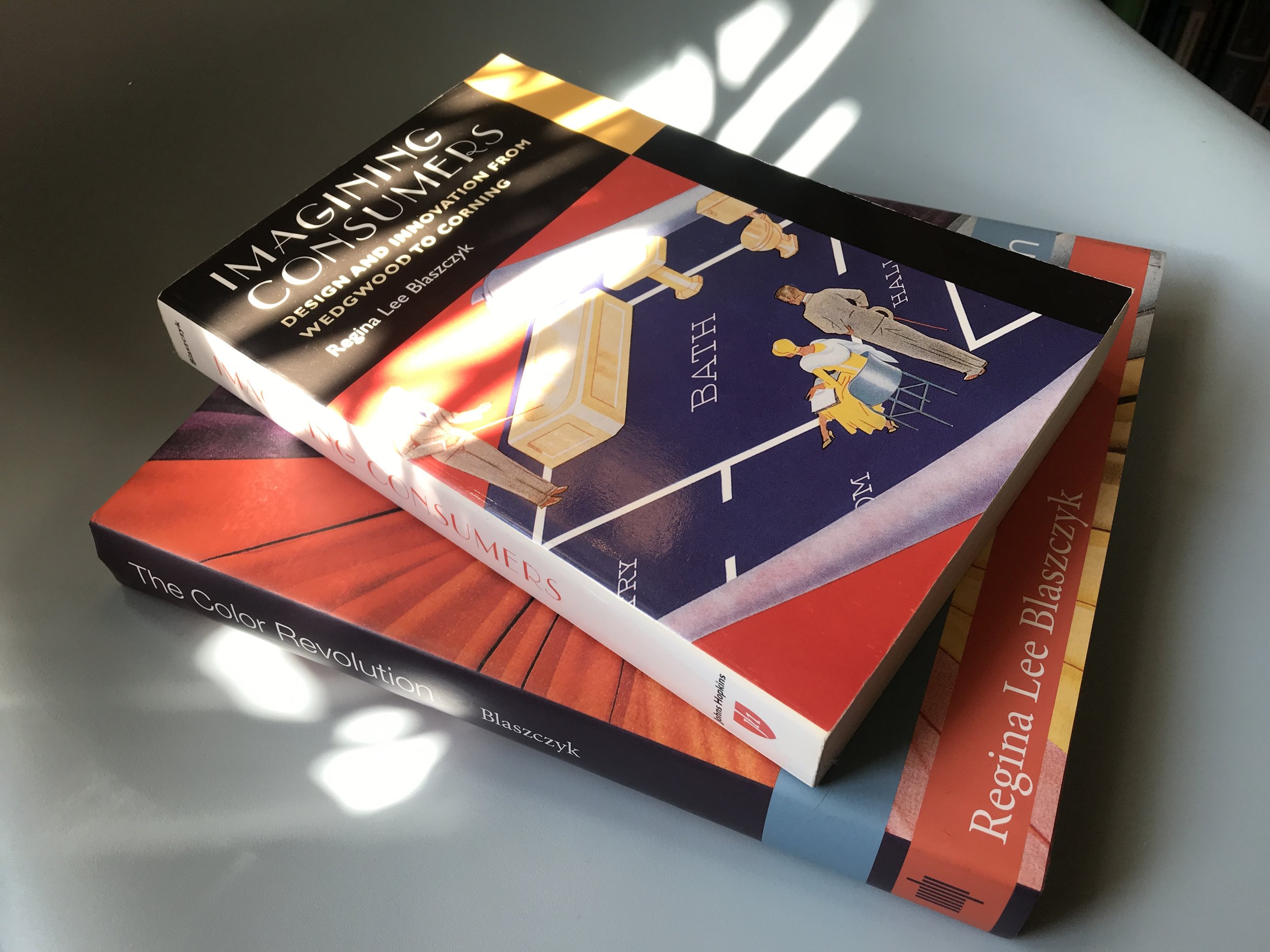 Blaszczyk's work has been influential across a range of fields, and has been awarded numerous prizes. The Color Revolution (2012) won the Society for the History of Technology's Sally Hacker Prize for Exceptional Scholarship that Reaches Beyond the Academy in 2013, the American Institute of Graphic Arts, Best of New England Design Award 2013, Designers & Books Notable Books of 2012, Women's Wear Daily Top Bookings for the Holidays, 2012 and the Wall Street Journal Best Business Books of 2012. Producing Fashion: Commerce, Culture, and Consumers (2008) won the Best of the Best Prize 2008 from the Association of American University Presses. Reggie's first book, Imagining Consumers: Design and Innovation from Wedgwood to Corning (2000) won the Hagley Prize for the Best Book in Business History at the Business History Conference in 2001, and in the same year it was a finalist in the Design History Society's Scholarship Award and was named a Choice Outstanding Academic Title by the American Library Association. In addition, her essay "From Progress to Modernity: Invention and Innovation at the World's Fairs," in Inventing the Modern World: Decorative Arts at the World's Fairs, edited by Catherine L. Futter and Jason T. Busch (New York: Skira Rizzoli, 2012) was awarded the Henry-Russell Hitchcock Award by the Victorian Society in America in 2013.
Today, Professor Blaszczyk is working on a new book about the synthetics revolution, to complement her previous studies of The Colour Revolution and the consumer revolution. She brings to the Hand Book project tremendous interdisciplinary knowledge, her expertise in working with archives and her experience as a writer. I am so glad she is part of the team.