Guns and Gloves: The Cost[s] of Design
This summer I will be preparing my talk for the next Design History Society conference, The Cost of Design, convened by Dr Elizabeth Kramer and Dr Janine Barker, at the School of Art, Design and Social Sciences, Northumbria University. The conference in Newcastle-upon-Tyne will take place from 5th to 7th September 2019. Kramer's aims for the conference are as follows:
'The Cost of Design' explores the complexities of the historic and contemporary relationship between design and economy. Design is both influenced by, and can shape, economic systems. Both 'cost' and 'economy' are to be understood beyond their financial implications. 'Cost' is envisaged as the exchange of resources, meaning or value. The conference looks at how design sustains, accelerates or challenges dominant systems, and examines the resulting social, cultural, economic or environmental consequences that arise. It examines the roles of design in rapidly changing economies, examining the relationship between technological advances and the economy. 'The Cost of Design' also looks at design's relationship to the political economy and the global/regional/local exchanges occurring within. Design practices can react to, resist, challenge or seek to influence economies that are viewed to negatively impact in some way. The ways in which design has been used to affect positive change within economic systems will also be examined.
My talk for the conference responds to 'the cost[s] of design' as being more than economic. It is titled 'Guns and Gloves: Hand and Machine Manufacture, the Price of Design and the Cost of Design'. I start with the question that industrialisation makes mass-produced goods available to many by reducing prices, but at what cost? I explore this question with reference to two categories of goods that work with and on the body, and specifically the hand: guns and gloves.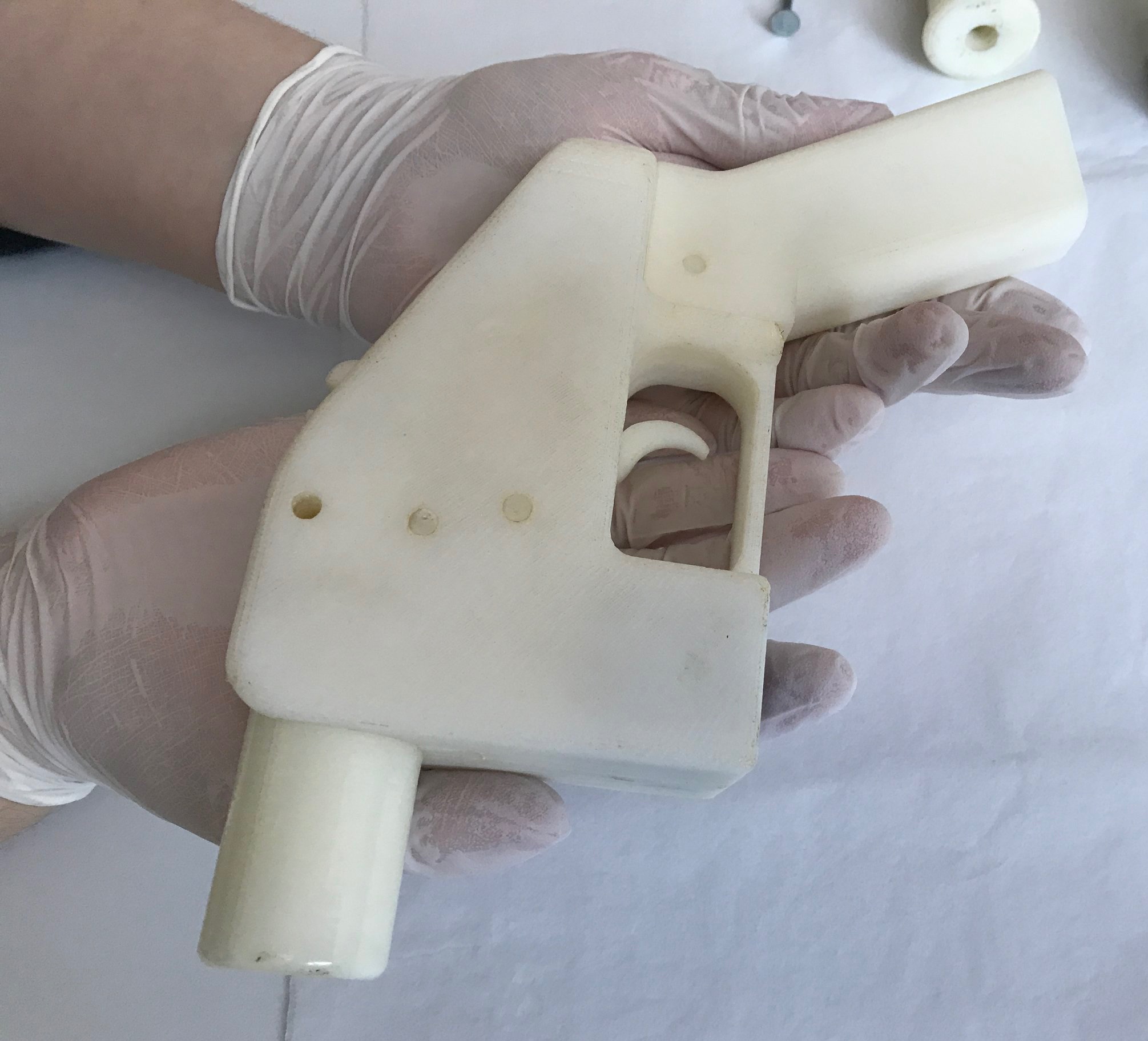 Curator Alice Power holding the Liberator hand gun during my research visit at the V&A Museum, January 2019. Photograph: Grace Lees-Maffei.
Following Lewis Mumford and Marshall McLuhan we can understand guns as extensions of the hand, supernatural tools which enable people to collapse time and space to achieve fatal dominance over unarmed combatants. Gun manufacture has developed from bespoke differentiation via interchangeable parts to mechanised precision and uniformity, while bespoke making continues among weaponry enthusiasts and historical reenactors and also via 3D printers. Defence Distributed's Liberator gun (2013), is designed to bypass gun regulation and make guns at accessible prices. I will be asking whether desktop weapon manufacture with a new capacity for differentiation.
Gloves also extend the body into environments that the ungloved hand could not endure. They fit, protect and mould to the body, offering supernatural abilities to withstand cold, heat, sharps and liquids. Gloves have the capacity to enhance both propriety and eroticism. The first factories of Dents glove company (f. 1777) used cutting and sewing techniques similar to today's. Although most consumers wear mass-produced gloves, the hand is so complex in its construction and movement that these depend as much for their fit on the pliability of knitted fabrics and leather, as they do on sizing systems and mechanised and automated manufacture. Wearers with exceptionally large, small, or immobile hands, with fewer or more digits than is standard, or with arthritis, are not well served by mass manufacturers, nor are those who want to express difference through unusual aesthetic qualities.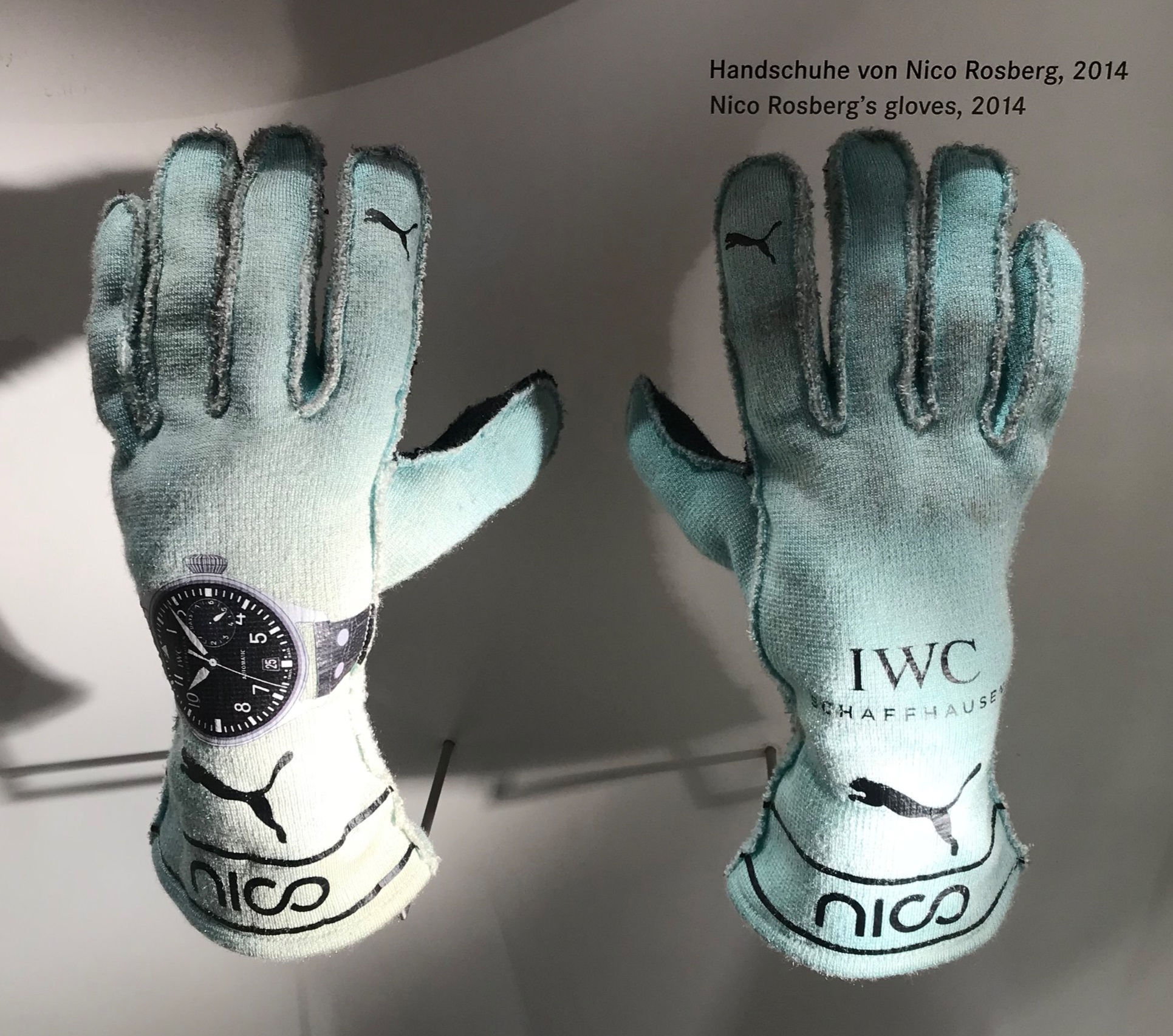 Nico Rosberg's Gloves, 2014, on display at the Mercedes-Benz Museum, Stuttgart, Germany. Photograph: Grace Lees-Maffei, April 2018.
Notwithstanding the development of sizing systems to provide consumers with goods which fit their bodies, and the science of ergonomics, intent upon smoothing the interface of bodies and machines, as the price of design has fallen due to mechanised mass production, so has its capacity to cater for difference. This is an increasingly untenable cost of design.
I am looking forward to discussing these ideas and hearing many more responses to the challenge of The Cost of Design in September at Northumbria University. I am curious as to what the keynote speakers - Guy Julier, Tereza Kuldova, Aric Chen and Alice Twemlow - will say, and I await publication of the full programme of papers with great interest. The Cost of Design looks set to be a very valuable conference!