Developing Researcher Development at the University of Hertfordshire
In 2013, the University of Hertfordshire's Pro-Vice Chancellor Research and Enterprise, Professor John Senior, appointed me to Chair the University's Researcher Development Working Group for the Office of the Vice Chancellor, in combination with my role as Reader in Design History in the School of Creative Arts. Prof Senior was keen to strengthen 'researcher voice' in the University's work in researcher development - a sector-wide trend - by having an active researcher leading the group. This appointment offered the dual benefit of further developing researcher development at the University and developing me personally, and the same is true for all members of the group, particularly our Early Career Researcher representatives from each School. I had been Research Group Leader of the TVAD Research Group since 2009, and Managing Editor of the Journal of Design History from 2011 and this new role extended my research management and leadership roles into the area of development.
The Concordat to Support the Career Development of Researchers (2008) was designed in part to ameliorate the experience of researchers employed on fixed-term contracts who were at risk of precarity and casualisation. Vitae, the researcher development arm of CRAC, the Career Research and Advisory Centre, agreed with the European Commission a UK-wide process which enables UK Higher Education Institutions (HRIs) to demonstrate their alignment with the principles of the European Charter for Researchers and Code of Conduct for their Recruitment. The UK process incorporates the Concordat and the QAA Quality Code for Research Degree Programmes. Successful delivery is recognised with the Commission's HR Excellence in Research (HREiR) Award.
The same year that the Concordat was launched nationally - 2008 - the University of Hertfordshire established a Concordat Working Group led by Dr Rodney Day (now Dean of the School of Engineering and Technology) to implement the Concordat. The group conducted a gap analysis and compiled an action plan in 2009 and launched Hertfordshire's response to implementing the Concordat in 2010. That year, Hertfordshire secured the HR Excellence in Research Award as part of the second tranche of UK Higher Education Institutions to gain the award. In 2012, the University undertook a 2-year internal review and produced an evaluation report and updated action plan.
My appointment in October 2013 enabled me to meet with all interested parties in the University to better understand the context for the complex genesis and delivery of researcher development institutionally, locally, nationally and internationally in advance of resuscitating the Concordat Working Group as the Researcher Development Working Group from January 2014. The group brings together Early Career Researchers as representatives of each of the academic Schools of the University with colleagues from central departments including the Research Office, Human Resources, Equality and Diversity, Health and Safety, Wellbeing, and the University and College Union, among others. Papers are circulated to the Associate Deans Research in each of the Schools, and to the University's Research Theme Champions, and the Director of the Doctoral College. In 2014, we hosted our first researcher development conference for all of the University researchers and undertook a 4-year external evaluation comprising another gap analysis and revised action plan which was peer-reviewed by Vitae's expert panel following our submission in December 2014. I joined Vitae's East of England Regional Hub, too, which offered insight into researcher development delivery at our neighbouring HEIs including the Universities of Cambridge, East Anglia and Cranfield among others.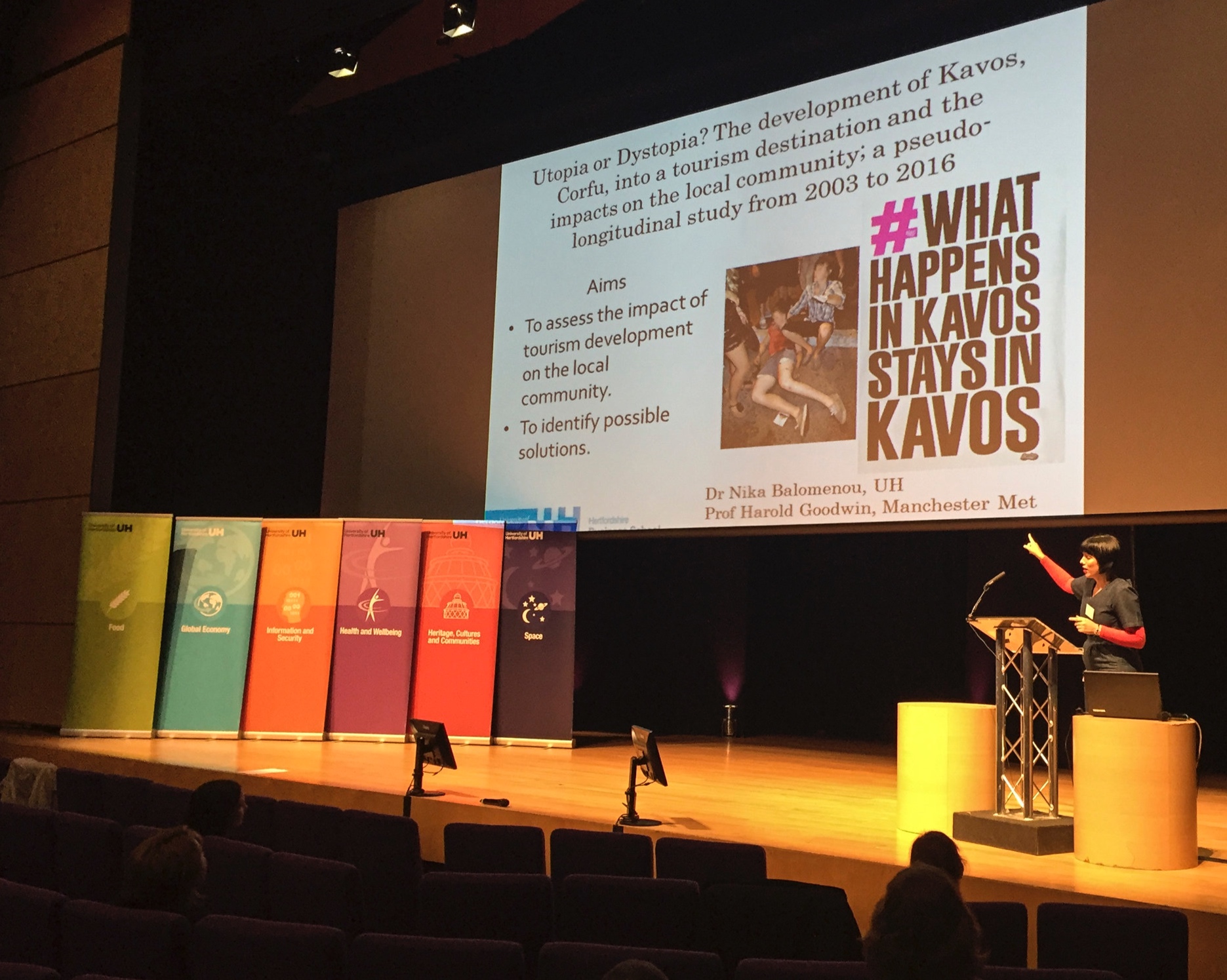 Dr Nika Balemenou presenting her research at ResDev16
The six years during which I chaired the Researcher Development Working Group took on a cyclical pattern. Three key areas of our activity occurred every two years: we hosted a biennial researcher development conference to increase awareness of researcher development across the institution in 2014/15, 2016/17 and 2018/19; we ran the Career Researchers Online Survey (CROS) and the Principal Investigators and Research Leaders Survery (PIRLS) in the spring of every other year to explore researchers' views and benchmark these with national comparators, and responding with our action plans; and we evaluated our progress continually with submissions to Vitae every two years, 2014, 2016, and 2018 with external evaluations in 2014 and 2018. In addition to these activities, the Group has run multiple rounds of Skill Up! our researcher-led researcher development funding scheme, among many other achievements.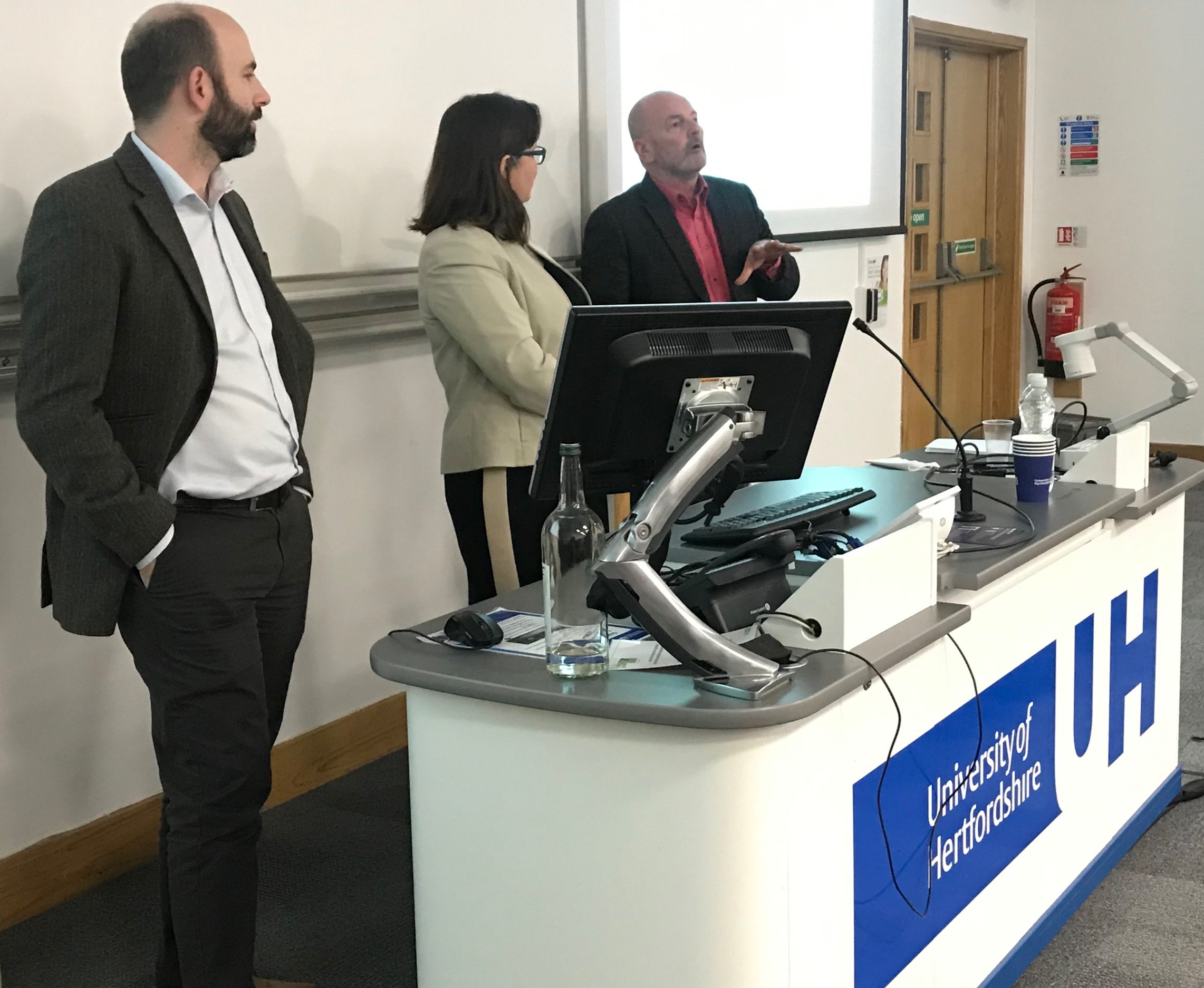 ResDev19 Keynote Panel: Career Development, L to R: Assoc. Prof Daniel McClusky, School of Engineering and Technology; Dr Elanor Warwick, Head of Strategic Policy & Research at Clarion Housing Group, and Prof Nigel Culkin, Complexity and Management Group.
Following successful delivery of the 8-year evaluation in 2018/19, Professor Senior renamed the Researcher Development Working Group the Researcher Development Group to reflect its ongoing status and I am now happy to step down from a group which has gained momentum and maturity. I am delighted to pass on the baton to our new Chair, Dr Liz White (School of Education). Dr White brings to the role her expertise in research and researcher development; as a long-standing member of RDG, she is thoroughly embedded in the group and the structures within which it works, and following a handover period will take the reins on September 1st 2019.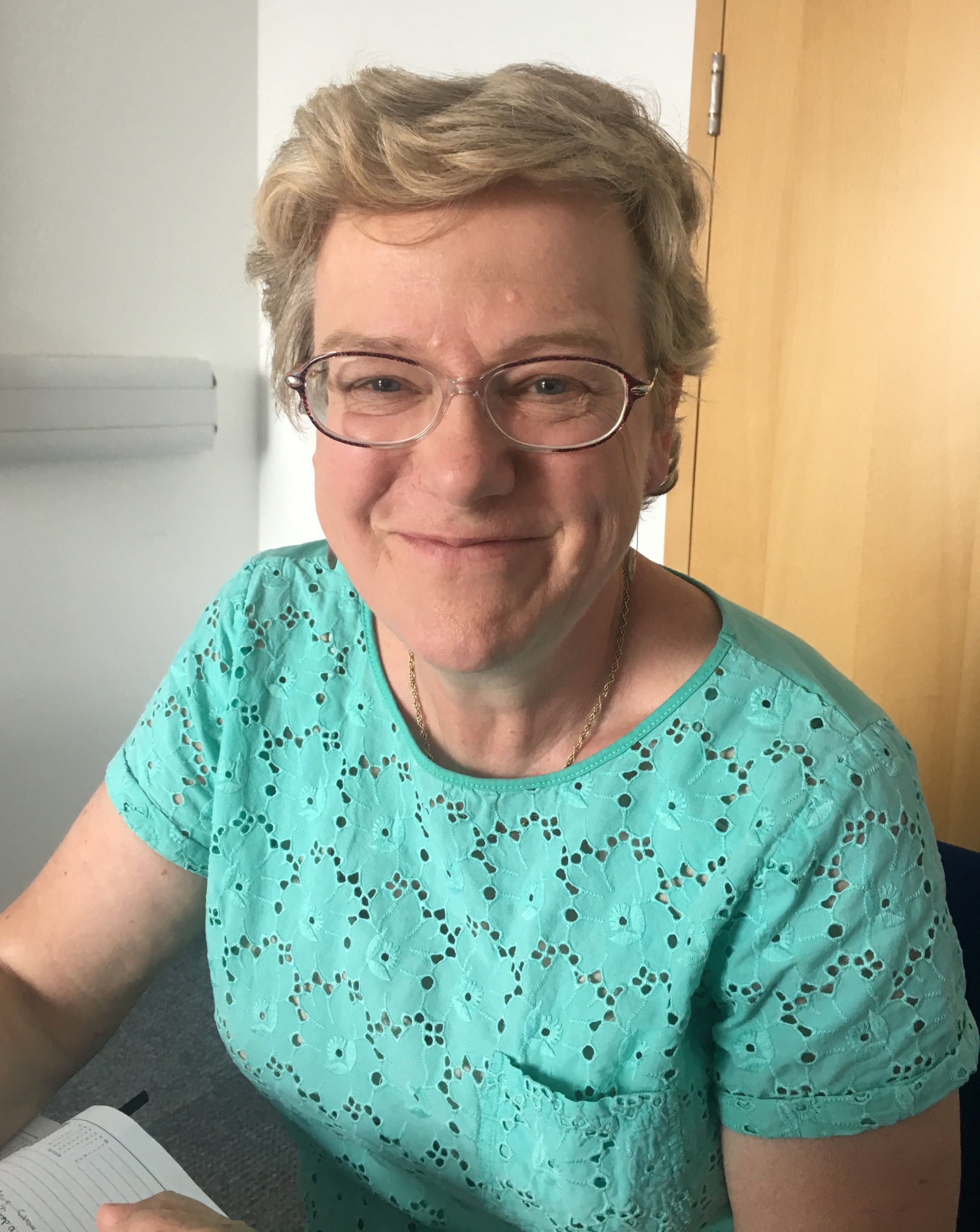 Dr Liz White, School of Education, University of Hertfordshire and incoming Chair of the Researcher Development Group
My final work on behalf of the Group is to deliver best practice from Hertfordshire at Vitae's International Researcher Development conference in September this year. We are making three contributions to the conference programme. With Linda Ryan (Trinity College Dublin), Dr Raquel Cabral Harper (Royal College of Surgeons in Ireland) and Dr Elise Glen (Institute of Cancer Research), Dr Alana Jelinek (School of Creative Arts representative on the Researcher Development Group) and I will deliver a collaborative workshop 'Supporting Researchers in their Leadership and Career Progression in Academia and beyond'. I will draw on my experience of launching the University of Hertfordshire's Women+ Professors Group this year. The workshop aims to enable participants to:
gain understanding of the benefits, challenges, lessons learned and outcomes of providing leadership specific programmes for researchers in general and for women researchers in particular
In addition we will display two posters, mine addressing Research-Informed Teaching and Intersectoral Mobility and Dr White's showcasing our recently-launched Associate Professor promotion scheme and its capacity for fostering equality and diversity in the University's professoriate.
It has been privilege to chair this group, working with such talented and committed individuals across the University's schools and professional departments, and in external regional, national and international contexts. I have learned a great deal about the values, management and delivery of researcher development and research and I have colleagues to thank for the successful work of the group, especially Helen Charlwood, Jill Lees and Luke Carr and all members of the RDG, past and present.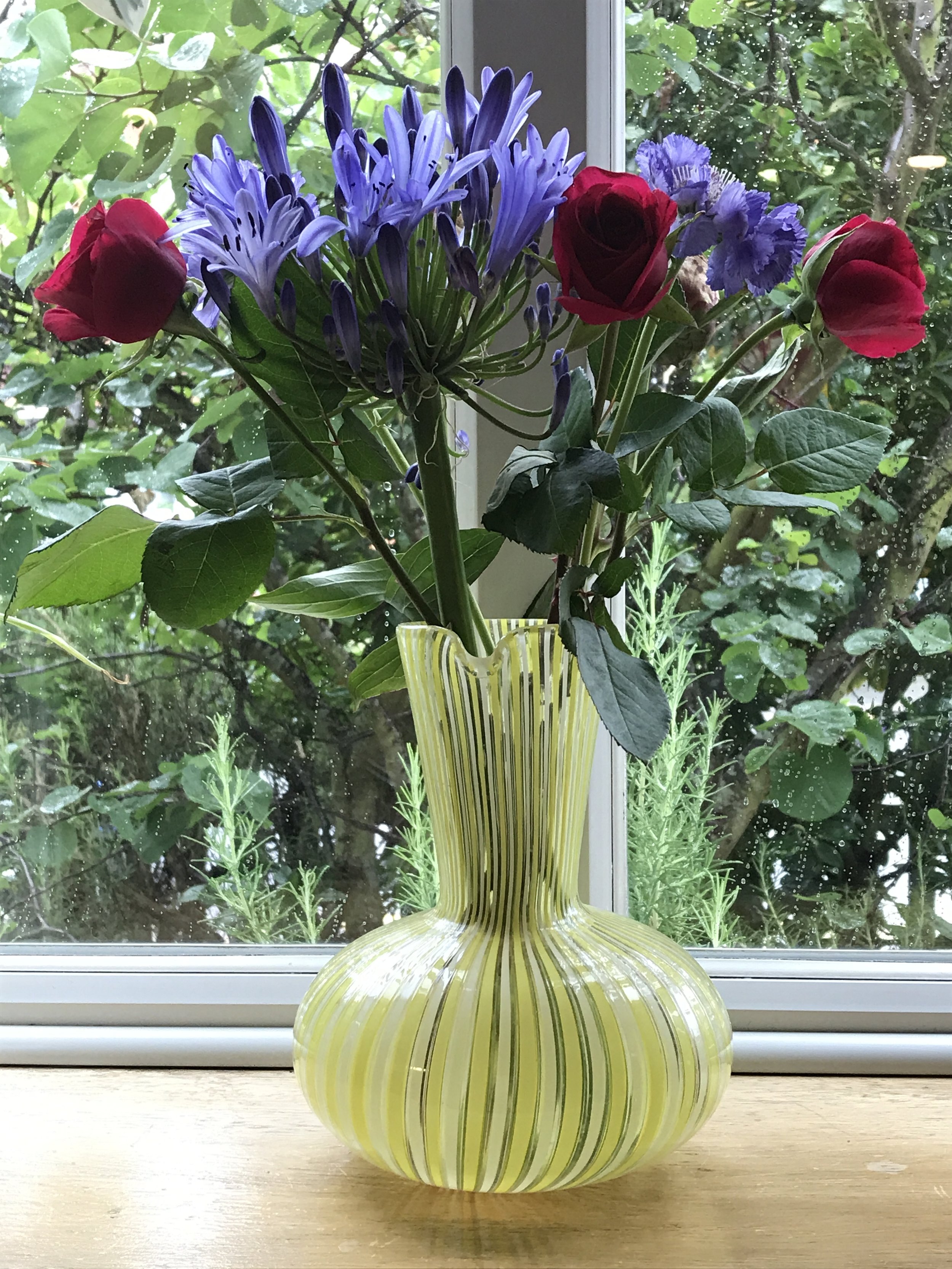 The beautiful flowers that Helen Charlwood gave me at my leaving celebration, which is also her leaving celebration as she is joining Hertfordshire Business School as a Lecturer, prompted the recollections which form this post.